IMPORTANCE OF CONTENT CURATION
BENEFITS OF CONTENT CURATION
You have a business. Let's say it is an interior design company. You have a blog and a social media presence on Facebook, Twitter, Pinterest and Instagram. You write a lot and you post a lot. For a one-man show, this has just become too burdensome. But you know that you have to keep to a publishing schedule if you are going to keep readers following you. You have lots of knowledge to give, but you don't have lots of time. And coming up with topics on a daily basis has become almost unmanageable.
Curating content will ease your pain significantly. You can give your audience great pieces of content, and reading other content will also give you great topic ideas. Just remember this: copying content will get you in trouble, so use other content as a means for getting ideas to write your own.
Via – 15 KILLER CONTENT CURATION TOOLS TO KEEP YOUR BLOG AND SOCIAL MEDIA RICH
HOW CONTENT CURATION TOOLS WORK
Content curation tools allow normal home users and professionals alike, to easily and efficiently group contents such as blog posts, status updates, presentations, articles, tweets and other multimedia content into a compilation. These are then easily shared online with friends and family.
Of course in every computer-related application or software, this tool ranges from easy-to-use discovery engines to more complicated ones that exists as business solutions to companies.
Via – Content Curation Tools For Web Surfers – Best Of
Via – Content curation: overview, benefits, goals and tools
HERE'S A LIST OF FREE CONTENT CURATION TOOLS:
The content curation tool that helps you save something that you want to read, watch, or share later, Pocket works on any device at any time. A leading save-for-later service, Pocket is integrated into more than 1,500 apps and is available for most major platforms and devices.
Key Features:
Save articles, videos, or nearly any other web content in Pocket
Save from your browser or apps like Twitter, Clipboard, Pulse, and Zite
Once the content is in Pocket, it's available on your phone, tablet, or computer, even if you don't have a web connection
Cost: Free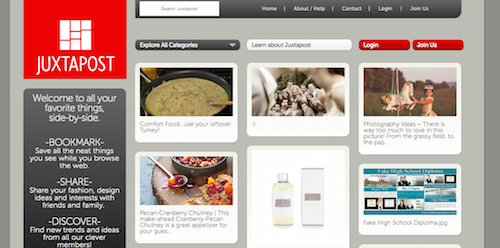 Juxtapost helps you keep track of web content with its easy-to-use tools to "bookmark" content into categorized pasteboards and then easily curate them. Content marketers also make use of Juxtapost's social discovery to browse other members' streams to identify popular content. Juxtapost becomes an especially powerful content curation tool when content marketers follow members in their own industry.
Key Features:
Postboard collaboration tool
Use the "More Like This" button to instantly branch off to similar posts without leaving the page you are viewing
Export all your posts, including original links and descriptions, to an Excel spreadsheet for easy content planning
Utilize preview zoom to see content in detail without leaving the browser
Share content instantly with Facebook or send directly to email addresses
Cost: FREE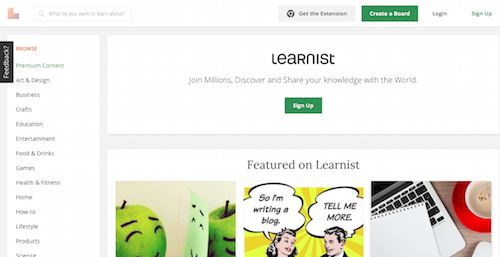 Learnist is a content curation tool for organizing text, images, video, and audio. Better yet, Learnist features "expertly curated web, print and video content covering tens-of-thousands of topics," so that expert content is available at users' fingertips for fast content curation.
Key Features:
Learnist boards are curated by knowledge leaders in a variety of subjects
Create learn boards dedicated to topics of choice to keep track of websites and content
Keep all relevant content in one place and access it any time
Share your Learnist pages with others for collaboration
Cost: FREE
Kuratur is a WordPress plugin that enables content marketers to have fresh, relevant content on their websites and blogs. With Kuratur, you can publish your own web magazine in minutes.
Key Features:
Have as many as 10 magazines at one time, or contact support if you need more
Integrate into your existing blog or website with total customization of the magazine's look and feel to match yours
Supports Twitter, Facebook, and any blog that shares an RSS feed
Magazines are search engine friendly
Cost: FREE
iFlow is a content curation tool that gives content marketers the tools they need to "discover, create, courage, and follow flows on any topic." Rather than wading through all of the content you don't need, you get the most relevant content in the topic-based flows from iFlow. The result is a powerful content curation experience with the ability to automatically or manually aggregate content from a multitude of sources.
Key Features:
Advanced features to filter and forward content from one flow to another in real time
Manually organize drops of content within and among flogs, using drag and drop, pin, or reorder
iFlow bookmarklet lets you publish content to flows as your browse the web
Control who views or contributes to your flows
Cost: FREE
Flipboard is a content curation tool that serves as a social magazine. Available for iOS, Android, Windows 8, and Windows phone, you can use Flipboard anywhere, including a computer. Flipboard collects the quality content you need and then presents it in a magazine format so that it is organized and easy to view.
Key Features:
Collects high-quality content from trusted sources
Showcases content, including articles, videos, photos, and audio, and brands
Content is portable, shareable, and valuable
Tools like the web bookmarklet, Flip.It button, magazine widget, and profile badge make it easier to curate and share content and for people to find your content
Cost: FREE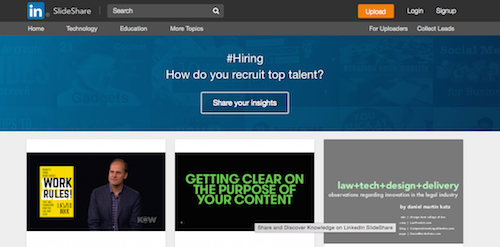 LinkedIn SlideShare is a popular way to present and share knowledge. In terms of content curation, content marketers browse Slideshares of others in their industry for new information and content. Then, they curate it to include in their own content marketing campaigns.
Key Features:
Over 18 million uploads in 40 content categories, making it one of the top 100 most visited websites in the world
Presentations, infographics, documents, and videos are available with expert content from industry leaders
Contains well-presented content from top experts that you can flip through quickly without scrolling through pages
Cost: FREE
Paper.li is a content curation platform for creating online newspapers from Twitter, Facebook, Google+, YouTube, and RSS feeds. Paper.li is a top choice among content curation tools because it makes it simple to collect, publish, and share content on the web and social media.
Key Features:
Access articles, blog posts, and rich media content
Allow Paper.li to automatically find content on any subject or add your own content sources yourself
Control the sites and individual contributors for your content
Deliver fresh, relevant content daily or on your own schedule
Cost: FREE
Newsle is not your ordinary content curation tool. Rather, it alerts you when your friends and colleagues make the news, so that you have access to content relevant to your industry. With Newsle, a member of the LinkedIn family, you'll never miss an article of real, relevant news again.
Key Features:
Finds blogs and articles that mention colleagues, bosses, industry thought leaders, and others important to you and notifies you within seconds of publication
Cuts through the social noise to get to the most relevant content
Great for business intelligence, too
Cost: FREE
Quora is the place to get answers and knowledge, which makes it a great content curation tool. Questions asked on Quora are put out to a number of experts and authorities, and then answers are archived and organized for anyone to access. The content already is curated for you, so you can find content on nearly any topic, often with links to more complete content pieces.
Key Features:
Distributes quality content on nearly any topic from experts, authorities, and regular people with relevant knowledge
Gather knowledge and content from a number of sources
Easily searched
Cost: FREE
Delicious is a content curation tool that discovers, remembers, and highlights selected content from anywhere on the internet. Make the most popular links work for you by collecting and organizing them with Delicious, and then have access to the content you want to curate at any time.
Key Features:
Remembers your content
Easily build a collection of links, basically creating your own personal search engine
Organize links quickly and easily and then find content quickly with smart search
Cost: FREE
Create your own custom news aggregator with IndividUrls, so that you have a compilation of the best content from the sites that most interest you. IndividUrls makes it easy to cut through all of the noise online and get to the content that is most relevant and valuable to you, so that you can begin curating content as quickly as possible.
Key Features:
Clean, easy-to-use interface
Quick set-up
Feed categories and custom feed names
Continuous scroll rather than pagination
Easily add sites with the bookmarklet
For the web and iPhone
Cost: FREE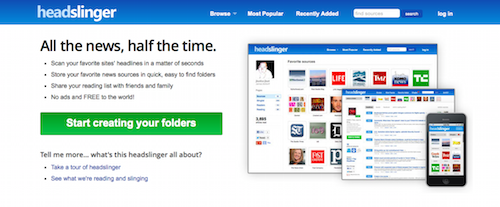 HeadSlinger delivers "all the news, half the time" as a useful content curation tool. HeadSlingers makes it possible to scan your favorite sites' headlines in a few seconds, plus avoid the hassle of using a content curation tool rife with ads.
Key Features:
Store your best news sources in quick, easy to find folders
Share your reading list
Free of ads
Cost: FREE
Sometimes, the key to great content curation is having easy access to the latest buzz on the hottest trending topics. That's where Addict-o-matic comes in. This content curation tool helps you instantly create a custom page for your topic by searching the best live sites on the web for the latest news, blog posts, videos, and images.
Key Features:
Personalize the search results dashboard and then bookmark the page for access to your personalized results dashboard every time
News page provides latest headlines on popular topics
Get all of the feeds from the best content sources in each category
Cost: FREE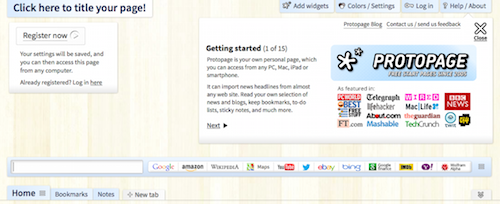 ProtoPage is a start page and RSS reader that serves as a content curation tool because you select the blogs and news you want in your collection and it imports headlines from nearly any website. Access your chosen content easily and get fresh content quickly with ProtoPage.
Key Features:
Access from any PC, Mac, iPad, or smartphone
Imports news headlines from nearly any website
Keep bookmarks, to-do-lists, sticky notes, and much more with your own selection of content
Cost: FREE
Spundge is a content curation tool that is specifically designed for financial professionals. With Spundge, anyone in the financing industry can curate, create, and distribute content quickly and easily.
Key Features:
Discover, organize, and curate content using the most relevant content available
Add your knowledge and expertise to the content you curate
Set up content subscriptions quickly to begin monetizing your expertise, while you keep all of the rights to your intellectual property
Cost: FREE
Via – THE TOP CONTENT CURATION TOOLS: 50 KILLER TOOLS FOR DISCOVERING, SHARING, AND SCHEDULING THE BEST CONTENT
You May Also Like
Choosing the Best Social Media Platform for Business
How to Build an Effective Facebook Marketing Strategy
Related articles