Today's buyers are well on their way to making a purchase decision before they contact a company – and that's where content marketing comes in.
60% of B2B decision makers say branded content helps them make better purchase decisions.
61% of consumers are more likely to buy from companies that offer custom content.
Via – CONTENT MARKETING
WHAT IS CONTENT MARKETING?
Content marketing is the process of creating high-quality, valuable content to attract, inform, and engage an audience, while also promoting the brand itself. Buyers and consumers are already searching the web for answers that your brand is uniquely positioned to offer. Its benefits are three-fold:
Increased brand awareness: As prospects and buyers search the web for answers to their questions and solutions for their problems, your brand continues to show up.
Increased brand preference: Content marketing helps to further establish your brand as a thought leader in your industry, which strengthens relationships with buyers.
Greater reach at lower cost: It is not a short-term strategy, but over time, a library of great content will continue to reach more qualified leads and interested buyers.
Content marketing is the savvy marketer's response to the new, relationship-based, buyer-driven, digital marketplace.
Via – Content Marketing
Forms of marketing that needs quality content:
Social media marketing: Content marketing strategy comes before your social media strategy.
SEO: Search engines reward businesses that publish quality, consistent content.
PR: Successful PR strategies address issues readers care about, not their business.
PPC: For PPC to work, you need great content behind it.
Inbound marketing: Content is key to driving inbound traffic and leads.
Content strategy: Content strategy is part of most content marketing strategies.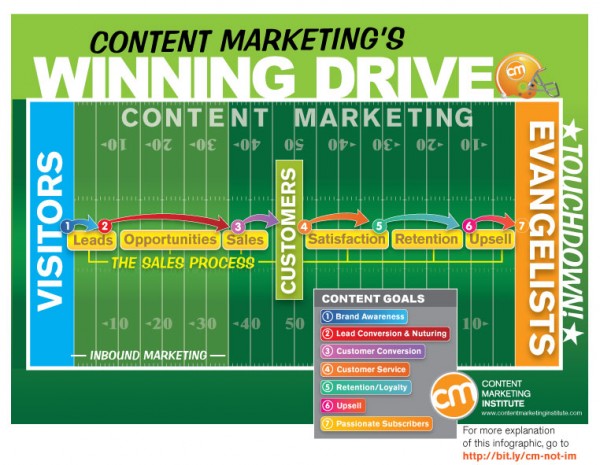 Via – What Is Content Marketing?
 You May Also Like: Curated List of 16 ABSOLUTELY FREE Content Curation Tools

WHAT GOALS CAN CONTENT MARKETING SERVE?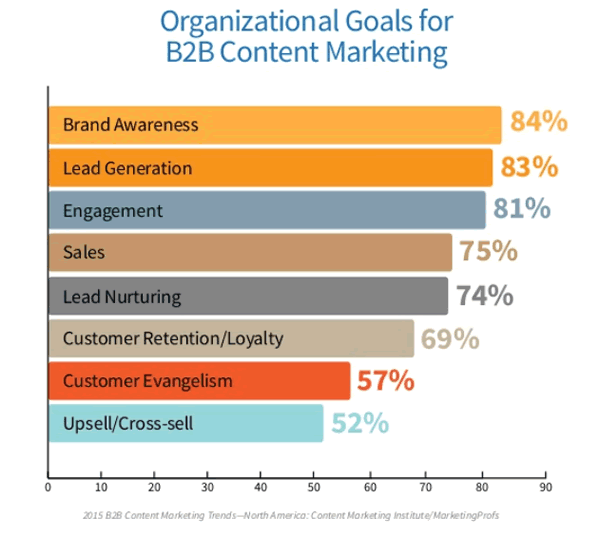 Given the fact that content plays a role in virtually all marketing techniques and tactics, there are no goals that can't be reached using content.
However, from a content marketing perspective, we see that marketers focus on some key goals such as:
Brand awareness.
Lead generation.
Engagement.
Sales.
Lead nurturing.
Customer retention and loyalty.
Customer evangelism.
Up-selling and cross-selling.
Although these are the typical goals found in content marketing research, we invite you to think out of the box and also look at the goals of your "audiences'.
Via – Content marketing: the guide to content marketing success
Here are five unusual tactics that can help you to generate great content that your prospects will actively look seek and engage.
Interactive: papers, e-books and infographics that compel the prospects to get involved.
Behavior-based: content that changes depending on the prospects' actions.
Industry-focused: content that addresses a single industry, rather than a single persona.
Disruptive: content that changes the prospects' thinking patterns and paradigms.
Mobile: content that fits within the small screen and distracting environment of a smart phone.
Via – The Advanced Guide to Content Marketing for 2016
HOW CAN CONTENT MARKETING BENEFIT MY BUSINESS?
One of the reasons some companies have hesitated to allocate resources to content marketing is that it can be difficult to really understand the benefits of content marketing. Getting people to think more highly of your business certainly sounds great, but the results are quite nebulous. In this case, it helps to begin thinking about just how many benefits content marketing can bring.
Strong brand awareness
Respect and admiration in the industry
Indirect customer conversions
Team coordination
Site traffic
Improved SEO
Direct customer conversions
Via – Is Content Marketing Right for My Business?
Recent Articles:
Related articles