What is Website Retargeting on Facebook?
Website retargeting — also known as remarketing — is the process of running ads that target people who have previously visited your website. In this case, we're speaking specifically of Facebook ads.
You can only run ads targeting people who have visited a website you control. You'll need to place a snippet of code (also called a "pixel") on your website that essentially allows you to claim those pages.
Via – Facebook Website Custom Audiences: A Definitive Guide for Remarketing
Ever checked out a product on Amazon and then seen it on Facebook later? That's retargeting.
Facebook knew that you visited Amazon because Amazon placed a small bit of Facebook code on its site. This then let Amazon automatically show you an ad based on the URL you visited.
So even though you didn't buy the product, Amazon still has a chance to turn you into a customer well after your visit their site.
While Amazon has tens of millions of monthly visitors, this strategy will work for any amount of traffic – even if you only have 100 visitors per month.
Via – The step-by-step Facebook retargeting guide: Get more conversions from your existing traffic
Why Retargeted Content?
The goal of retargeted content (also known as remarketing) is to place your brand top of mind. Common strategies remarket to people who have already visited your website.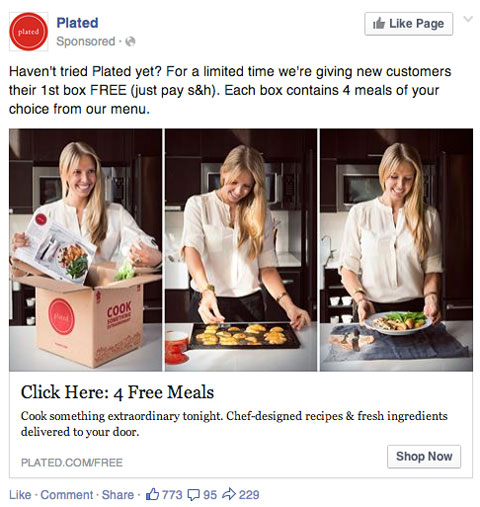 Updates like this can show up in your news feed if you've ever visited the Plated website.
People rarely buy from you the first time they visit your site or see an offer. They would rather take their time, compare your pricing with competitors' and visit your site a few more times before completing that valuable sale.
Via – How to Retarget Content to Facebook Custom Audiences
FBX (Facebook Exchange) is the original way of remarketing on Facebook. With FBX, you use an approved third party vendor like AdRoll or Perfect Audience (click one of those affiliate links to get a credit) to create domain ads that appear on Facebook that target specific visitors to your website.
Website Custom Audiences, of course, are created on Facebook withinPower Editor or the Ads Manager. As a result, you can create any ad you normally would, but target visitors to your website.
No third party tool when you use WCAs. Keep all of your ads together. Create any ad you want. Lots of advantages with WCAs.
With FBX, you can only create one type of ad — a domain ad — and it isn't connected to a Facebook page, app or event. Since it's done through a third party, that third party also needs to take a cut as well.
Via – Facebook Remarketing: 8 Effective Website Custom Audience Strategies
What are Facebook Website Custom Audiences (WCA)?
Essentially, it's Facebook Ads retargeting. This involves allowing retailers to show ads to those who've visited their websites. If this reminds you of Facebook Exchange (FBX), you're not in the wrong. However, according to AdWeek, this feature is different from FBX since it "won't include demand-side platforms like Turn, AdRoll and Triggit that have made retargeting to Facebook users via FBX a pillar of their business." This means everyone can now do Facebook Retargeting from the Facebook Ads Manager or tools like AdEspresso without the need of third party networks.
Via – Retargeting Your Website's Visitors with Facebook Advertising
What Can We Use Website Custom Audiences (WCA) For?
The possibilities of how precisely you can reach people are endless. Here are some targeting ideas you can start to implement today:
Reach out to visitors who visited certain sections or content types in your site with similar/related content to encourage revisits.
Reach out to visitors who visited a particular section or page of your website but did not complete an action like purchase or sign-up.
Send a thank-you or welcome message to visitors who completed a desired action such as purchased a product or signed up for a new service.
Reach visitors who bought a particular product with related products or accessories to cross-sell.
Reach out to visitors who have not visited your site in a while (include WCA visitors who have visited over the last 180 days then exclude WCA visitors who visited over the last 150 days – you will need to create two WCAs with different duration settings).
Via – Quick Guide to Retargeting on Facebook Website Custom Audiences
Getting Started With Custom Audiences From Your Website (Deprecated)
Custom Audiences from your Website allows you to target your Facebook ads to audiences of people who have visited your website and remarket to people who have expressed interest in your products.
In this guide you will learn how to: