Over the years, podcasting has grown its popularity and according to Washington Post:
the number of unique monthly podcast listeners has tripled to 75 million from 25 million five years ago,
Considering the fact that podcast has now become one of the few marketing material business must have in order to potentially increase your audience and drive-in traffic to your website. And if you don't have one, this article is meant for you.
HOW PODCASTING ACTUALLY WORKS?
Podcasting is particularly similar to hosting your very own talk show where you can discuss niche topics regarding a certain product or industry. Technically as Yaro Starak has defined it,
The word "Podcasting" is a portmanteau combining the words "broadcasting" and "iPod".
Similar to blogging, podcasting works best when you get to acquire as many subscribers as you can that shares the same interest in the topics you cover from time to time. It may not be a marketing requirement but it is a valuable material to grow any kind of industry or business. If you're still confused you may look into Nerdist Podcast Channel to get an idea how podcasting works.
WHAT DOES IT TAKE TO CREATE YOUR OWN SUCCESSFUL PODCAST?
Before we begin scrolling down the factors needed to put up a successful podcast, always remember that podcasting may not require a lot of money and technical knowledge but it takes a lot of time and planning.
These Are 5 Most Certain Factors You Should Consider Before Getting Into Podcasting
#1: CHOOSE AN INTERESTING TOPIC
Podcasting is just as simple as creating your own blog. Before you even say anything you will have to choose the main topic, subtopics and what your audience should know about regarding that certain topic. It is a very important factor considering that when you do podcasting you should also act as a mentor and an influencer.
Know the topics you will have for each of the episodes and plan on the next and so on. Be sure that it is within your expertise and if not, you may invite someone that is an expert in that area instead for a question and answer episodes.
Quick tip! You may search trending topics in the social media that you can relate to your industry or business then add in your opinion. Listen to your competitor's podcast and extend your topics to what you know that they don't talk about. If you are just starting up, offer free coaching if you can or online programs or any trials of your service or products.
#2: FORMAT AND STRUCTURE YOUR PODCAST EPISODES
The next important step to focus on is to format and structure your podcast episodes.
The first thing you should consider is the length of you podcast episodes. An in-depth topic could last for about 30-45 minutes or may take an hour and longer than that could be a bit much for the audience but always make sure to make it consistent as part of your strategy in structuring your podcast. The best approach you can do to promote your service or product is to host it yourself.
There are lots of structures you can do for a podcast episode:
Solo – you can do storytelling or teach or point out your opinion about a certain topic.
Interview – have some conversation with experts or feature popular people in a question and answer episode.
With a Co-host – banter a topic with another host could bring a better conversation.
Combination – You can schedule and plan to do all these along the way but it is better to be consistent with the episodes you do.
Quick tip! Imagine this, your audience will take time in getting used to and when they do, it's better to stick to a program in which your approach and episode length are consistent at all times. In that way, you can build a reputation and consistency. TV shows and radio is a good example.
#3: EQUIPMENT AND PLATFORMS TO USE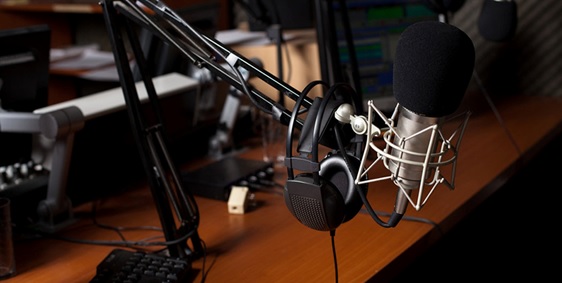 Equipment:
When you get serious about podcasting you will need to equip yourself with some good equipment that will give your episode the best audio for the audience.
Microphone: Audio-Technica AT2020USB PLUS Cardioid Condenser USB Microphone
Headset: Sennheiser HD 202 II Professional Headphones (Black)
Swing Arm: RODE PSA1 Swivel Mount Studio Microphone Boom Arm
Pop Filter: Nady MPF-6 6-Inch Clamp On Microphone Pop Filter with Flexible Gooseneck and Metal Stabilizing Arm
Shock Mount: Samson SP01 Spider Shockmount
If you think you are not ready yet to advance on the equipment make sure you get the right mic and headset to start up.
Recording and Editing Platforms:
There's really no need to get nervous. You can record and play as many times as you want and edit them later.
If you are using Windows, I recommend you use:
Skype and Pamela for Skype in recording
Audacity or Reaper for editing
And if you are using Windows, I recommend you use:
Skype and Ecamm Call Recorder for Skype for recording
GarageBand for editing
There's lots of software you can find online and you can even use the ones that are free. You can try them first before you even actually export .MP3 files for production.
Podcast Streaming Hosts:
These are the sites where you can upload your final .MP3 files and you can consider them as your portfolio.
The most popular I can recommend would be:
And if you're looking for a WordPress ready host you can also try:
Blubrry and PodcastWebsites
You can check the plans and pricing that you think suits the span of time you have planned your episodes to go on.
Quick Tip! To reach more audiences, you can also submit to podcast directory sites like Stitcher and iTunes.
#4: FINALIZING YOUR EPISODE
Now when you are done recording and editing, it's time to add the remaining elements of your podcast episode.
Creating Your Intro and Outro:
You can create your own intro and outro or you can hire voiceover talents for that.
If you are doing it yourself, you can try looking for good recording in Fiverr that you can split and edit. You may also hire voice over talents to create them for you:
You look for talents in Upwork, Freelancer or Voice123 and hire them to do your intro and outro then attach them to your recording.
Successful Podcast Artwork:
The next thing you'll need is the cover. If you have the skill to create an artwork for your cover, here are the essentials you will need according to, Patrick Allan of lifehacker.com .
Image must be 1400 x 1400 pixels at minimum
Image must be in .jpg or .png format (.jpg preferred)
Image should look good—and readable—at 300 x 300 pixels

A good rule of thumb is to optimize your image for 150 x 150 pixels. If it looks good that small, you know you won't run into any problems.
You don't need to do this on your own. You may hire a graphic artist in Upwork, Freelancer or 99designs to create them professionally. And when you're done it's time to upload them on the channels.
Fill Out Your Metadata Template:
It is also important to fill in the basic details needed in the metadata template. Not all are important but as suggested by Daniel J. Lewis at The Audacity to Podcast:
Track: your episode number. This will help sort episodes chronologically if a player doesn't read the published or modified dates.
Title: your episode number and title, just like your blog post. For example, "AYJW027: Courageous (2011)."
Artist: the name(s) of the episode host(s) or the name of your network.
Album: the title of your podcast (remember, this is your whole show, not just an individual episode).
Year: the year of release.
Genre: pick what is most appropriate or "Podcast."
Comment: a short summary of your episode. This could be the same as your WordPress excerpt, or simply the web address to your show notes.
Copyright: your copyright information. I recommend writing it like, "© 2011 D.Joseph Design"—note that "by" is not necessary, and the symbol should aways precede the year. Not all tagging programs have this.
URL: your show notes web address. Not all tagging programs have this.
Cover / picture / album art: your podcast cover art.
Quick tip! You may also use ID3 Editor for editing ID3 tags. It can run on both MAC and Windows OS.
#5: PROMOTE YOUR PODCAST
Finally, when your podcast is up and broadcasting live it's time for you to promote it. Use all sorts of social media platforms that you have. Post links that will lead the audiences to your podcast and encourage people to take some time to listen to it.
Here are a few ideas from EOFire to get you started:
If you're doing an interview-based show, email your guest with a reminder the day of and ask if they'll help share it with their audience;
Create a show notes page that you can direct people to in order to increase traffic to your website (that's where people can find out more about you and what else you have to offer);
Get social: promote your episode on Facebook, Twitter, LinkedIn, Google+, Instagram… choose the top 1 or 2 social platforms you know your listeners are on and use a scheduling tool like Hootsuite or MeetEdgar to start promoting your show;
Take your audio and create a YouTube video so you can share on YouTube.
Repurposing your content when it comes to audio is not only simple, it can also be very beneficial since everyone likes to consume content in different ways and on different platforms.Quick tip! There's also a scheduling tool you can use that includes podcasting like CoSchedule.
I hope this article helps and always remember that it may not be successful the first time, you do it so try recording first 4-5 episodes and see how it goes. Happy podcasting!