This is the last article of the four-part series on How to Create a Facebook Business Page Tutorial.
As we have discussed in our previous post How to Promote Your Facebook Business Page Effectively,
the organic posts, videos, and photos should be tailored according to age, gender, education, or any relevant keyword or phrases.
If properly implemented, it would be easier to measure the engagement and reach that will be useful in improving your Facebook Business Page.
Here's an easy-to-follow guide to Facebook Page Insights by Blue Corona:
It wasn't so tough, right? It might take the time to put all things together but once you have it all set up correctly, it will be easier for you to make some adjustments since everything in it is pretty much editable. But make sure that when you make those changes it has to be similarly relevant or better than the previous.
In this article, we will finally discuss further:
Building Audience
Monitoring the Audience Insights
Using the Facebook Adverts
Bonus Tips
BUILD YOUR AUDIENCE
Building an audience means reaching out to audiences that care about your products or services and people in search of your products or services.
As for the newly created Facebook Business Page, the very basic thing to do when building an audience is by inviting people whose already in your network to like your page. This way the friends in your network will be able to be useful as you post spread through friends of friends. Invite previous customers and clients too.
You can also follow niche pages and join groups for further reach.

Another way to do that is to invite your friends first by clicking the Promote button on the bottom left or the More button beside the Message button to see the drop down list then look for the Invite Friends button.
You may also scroll down the Home Page and look for the Invite friends to like this page found in the right column. Then once you click any of those a pop-up screens will show the list of friends you have in your personal account. Click the Invite button to invite them to like your page.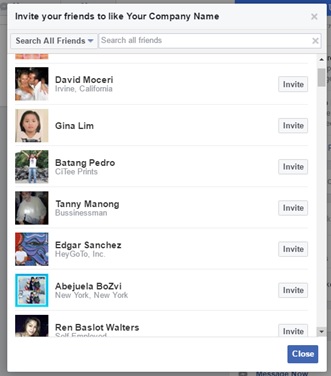 Another way of doing it is by adding a Facebook widget on your website that will link directly to your Facebook account. See example below: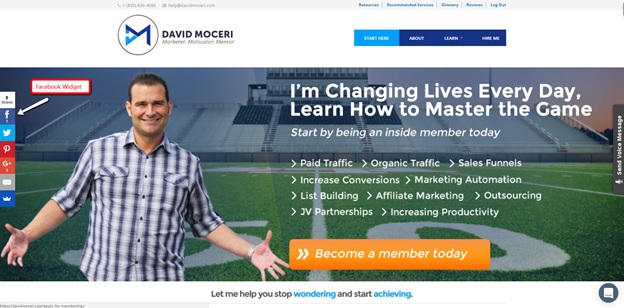 Not all prospect can be found on Facebook. There are few people who still rather browse all over the internet for business. Put it on your website for all your visitors to see and connect to.
Building audience is also a way of promoting your Facebook Business page. Whenever you run the Facebook Advert you will have the advantage of reaching your customers' locations by country, city, or postcode and/or by interest, work, education, et cetera.
MONITORING THE INSIGHTS
By using the tracking URLs and Facebook Insights tool, you can accurately analyze your Facebook Page's overall performance. Keep in mind that how you strategize your marketing campaigns will help a lot on your performance.
Basically, you will find these metrics in the Insights tool that will show you:
Actions on Page
Page Views
Page Likes
Reach
Post Engagements
Videos
With these metrics, you can adjust or plan out better ways on how to improve your campaigns, image and video posts. You may also export the data for execution plan if you need it depending on the strategy that you are using. If you want to set a narrower or broader target, you may use the Facebook Advert.
Watch this Facebook Audience Insights video from Charles Kirkland to get an idea on how to target your audience using Facebook Adverts the right way:

To go directly to this tool, use Chrome browser and use this link: https://www.facebook.com/ads/audience-insights/
Bonus Tips!
Treat Facebook as your handy brochure, chances are you get to showcase services and products on a daily basis in a pool of potential customers. Many people might miss it, but the same number of people might also be looking for it. Promote your campaigns the right way and people come to you unexpectedly through referrals or through reach.
Be sure you leverage your business on other profile or groups, you can counter-promote your business through niche profiles and groups to maximize the exposure of your page. Other competitors would love to promote their company to yours, it would also be right to promote your business to theirs.
Remember the strategic times to share or post your campaigns, it is the best time where people freely shoot likes and shares all over the social media. Take advantage of it! Also, learn from it by watching what's trending and what certain aspects people are looking at to share on their profiles.
As much as possible try to interactively engage with your audience comment, like, and share. Let your audience know your alive and ready to address their concerns whenever they need one.
But don't ever spam your audience, that will hurt your business badly. People might saw your campaign the first time. Don't get overexcited. If they are interested, they'll surely look for you later. Don't annoy them.
And that's it. Make adjustment whenever possible. The best practice is to test your assumptions and keep learning it.
Now that we got everything set up, let your campaign and post roll in your Facebook for Business Page.